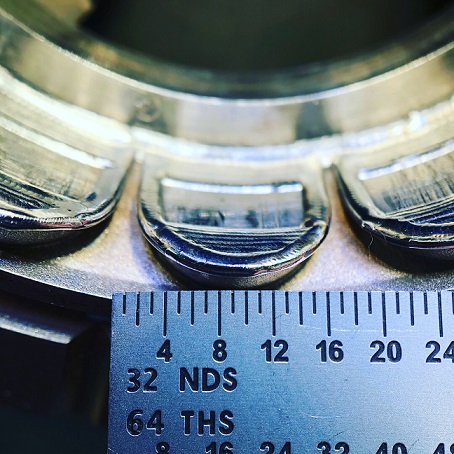 Tool and Mold Welding is the process of using laser welding to create a buildup on the damaged mold surface, so that surface can be machined back to original dimensions. This process is often used to refurbish molds used for plastics, rubber, metal casting and more. Laser welding is also used for mold revision in cases where the original mold design is found to underperform. A typical mold revision or repair process is as follows:
The molding or casting provider identifies a defect during regular maintenance or notices changes in production.

Any coatings or plating on the repair surface is stripped

The original tooling blueprints and tooling are sent to the weld shop for repairs

The weld shop prepares the surface for welding and preheats the part

The weld shop uses a laser weld, TIG, or a combination to create a buildup on the damaged surface

The buildup is machined back to its original dimensions

The mold is re-coated, polished, or plated, and put back into production
Lewis-Bawol Welding is known nationally as experts in laser welding for tooling repair. We specialize in using minimal weld and providing a repaired tool that looks as if it had never been repaired. Our company has over 80 years of laser welding and tig welding experience, and provides some of the nation's largest OEMs with tool and mold welding services.
Repair Expertise and Impact on Profits
Precision tool and mold repair can have a substantial impact on program profitability due to downtime while repairs are completed and also to the fact that if dimensional tolerances are not accurate, it will negatively affect the performance of the tool and increase part finishing costs. Lewis-Bawol takes pride in our ability to achieve the tightest tolerances and to provide our customers with ideal turnaround times so they can maintain maximum production.
Tooling Repair Case Study
The Problem: A 32 cavity mold was lagging in production due to significant wear on all of the gates. There were cracks on the shutoffs as well which was affecting temperature control. The gates also had a high polish which created difficulty in eliminating traces of the welding process, and any witness lines after the welding would affect the performance.
The Profit Loss: The mold was down because of its high volume use, and every day it was being repaired was costing thousands of dollars in lost production time. The customer received time estimates of up to 4 weeks for repair.
The Solution: Lewis-Bawol used all of their expertise built over 4 generations to perform perfect repairs of all gates and shutoffs, leaving no witness lines or evidence of a repair. Through complete removal of old welds, understanding of metal properties, and the process of preheating and slow cooling they eliminated sink or distortion. They left no evidence of repair, and restored the mold to original dimensions in 1 day.
How to Maximize the Life of Your Injection Mold
There are numerous factors that affect the lifespan of an injection mold. Some of the major ones that are largely not controllable include:
The injected material

Cycle times

Operating temperatures
In spite of the items out of your control, the lifespan of your mold tooling can be significantly extended if:
The tooling has preventative maintenance done after every cycle, including inspection for defects, cleaning, lubrication of moving parts, and creating maintenance records

The tooling is operated in a clean environment

The tooling is free of defects, burn marks, sink, and flow lines

The part releases easily from the mold (usually a factor of mold coating)

The mold is sent out for quick repair, when inspection shows wear or defects
Here are a number of additional steps you can take to increase tool life according to
Moldmakingtechnology.com
Verify you are using the correct tonnage for your mold

Set up a low pressure close on the press

Limit core speeds and pressures to the requirements of the application

Ensure correct pressure set points

Monitor startup and shut down at the valve gates and hot runners. Cleanliness and correct temperature are key!

Ensure mold half temperatures do not exceed 20 degree F variance
Proper Mold Maintenance Delays but Does Not Eliminate the Need for Repair
When program costs increase and on-time delivery rates drop it's time to send your mold tooling to Lewis-Bawol. Our expert welders understand metallurgy, surface preparation - old weld removal, bead blast, and ultrasonic cleaning - weld materials and the appropriate welding medium for various types of molds and components. We are experts in providing welds that match the material or the material properties of the tooling, and we validate every mold before it ships. We help you minimize downtime and get you back into production - sometimes in as little as 24 hours.